North west & Western Iran
Standard: €1,242
Economy: €900
13 Days

Tabriz-Shiraz

542 Views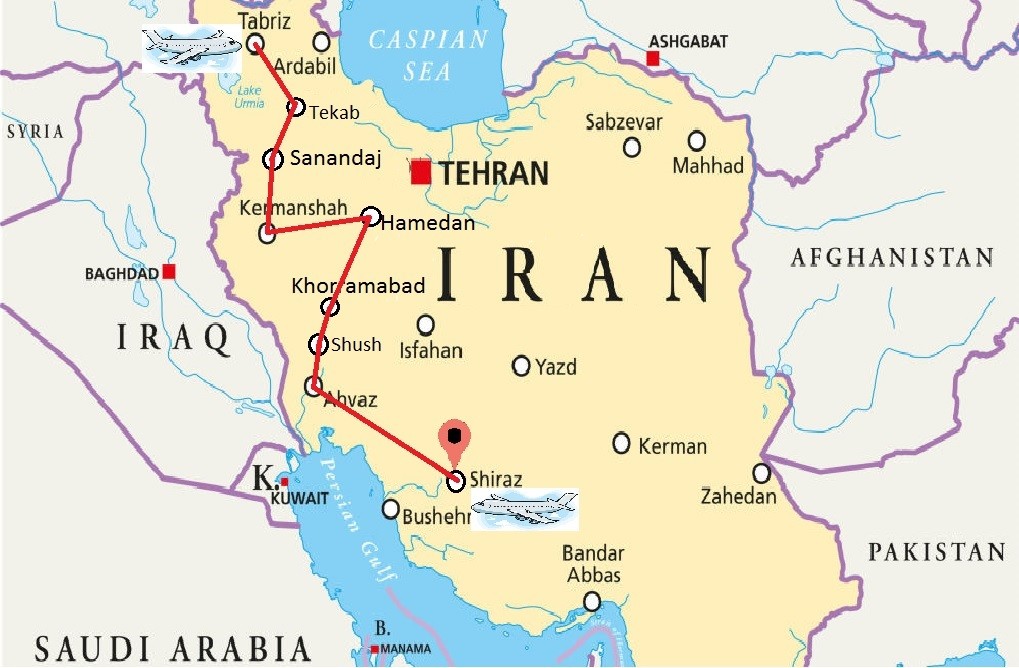 About the tour
Circuit nord-ouest et ouest de l'Iran
In This Tour We Will Discover western Iran with wonderful roads full of mountains called Zagros string. you Will Discover 8 Unesco Sites.
Amenities
Transportation

Professional Guide

Visa invitation code

4 star hotel

Meals (optional)

Entrance fee
Tour Rules
The itinerary is flexible. Please contact us or book the tour for more details.
The Price Is For One Person With A Minimum Of 2 People without meals (BB).
Economy tours hotels are 2* with public transportation and you will have a guide in whole trip excluding meals and entrance fees. An optional economy version is having a private car for transportation with no guide.
In Standard tours private car will be used and you will have a guide in whole trip and hotels are 4* including entrance fees.
It's possible to choose a luxury version on above mentioned tour with additional price to the standard version to have a private VIP transportation and suite in 5* hotels.
Day 1
Arrive Tabriz
Your first day in Tabriz one of the metropolises and the biggest city in north west of Iran and the capital in Qaraqoyonlou and Safavid periods. Visit blue mosqe, Azarbaijan museum, grand bazaar the biggest covered bazaar,Tabriz has been a place of cultural exchange since antiquity and its historic bazaar complex is one of the most important commercial centres on the Silk Road. Tabriz Historic Bazaar Complex consists of a series of interconnected, covered, brick structures, buildings, and enclosed spaces for different functions in the world and Unesco heritage and visit constitutional museum.
Day 2
Visit Kandovan Rocky village
Visit Kandovan rocky village,The troglodyte homes, carved into volcanic rock and ash to dwellings in the Turkish region of Cappadocia, are locally called "Karaan". Karaans were cut into the Lahars (volcanic mud flow or debris flow) of Mount Sahand In evening enjoy El goli park.
Day 3
Drive to Tekab
Visit Maragheh ancient town about 2 hours south of Tabriz which was capital in Ilkhanid era and enjoy visiting Observatory and Seljukid historical towers then drive to Takht-e-soleyman,The archaeological site of Takht-e Soleyman, in north-western Iran, is situated in a valley set in a volcanic mountain region. The site includes the principal Zoroastrian sanctuary partly rebuilt in the Ilkhanid (Mongol) period (13th century) as well as a temple of the Sasanian period (6th and 7th centuries) dedicated to Anahita. The site has important symbolic significance. Over night Tekab.
Day 4
Drive to Sanandaj and visit there
Head to Sanandaj capital of Kurdistan province with hospitable people.Sanandaj, or Sine, is the capital of Kordestan province in Northwestern Iran, and is 95 miles (153km) from the Iran-Iraq border. The population of Sanandaj is mainly comprised of ethnic Kurds, with Armenian, Jewish and Arab minorities. Visit bazaar, Friday mosque and Asef vaziri building (Kurdish anthropology museum).
Day 5
Visit Bistoon and continue to Kermanshah
Drive to Kermanshah and stop in Bistoon complex which is a Unesco site with a long history relates to Achaemenids and Sasanid kings.Bisotun is located along the ancient trade route linking the Iranian high plateau with Mesopotamia and features remains from the prehistoric times to the Median, Achaemenid, Sassanian, and Ilkhanid periods. The principal monument of this archaeological site is the bas-relief and cuneiform inscription ordered by Darius I, The Great, when he rose to the throne of the Persian Empire, 521 BC, Visit Tag-e-bostan with beautiful reliefs inside arcs. In the evening visit Tekye Moaven-al-molk with amazing tile works in city center.
Day 6
Drive to Hamedan and visit city
Drive to Hamedan.Hamadān is the capital city of Hamedan Province of Iran. Hamadan is believed to be among the oldest Iranian cities and one of the oldest in the world. It is possible that it was occupied by the Assyrians in 1100 BCE; the Ancient Greek historian, Herodotus, states that it was the capital of the Medes, around 700 BCE. On the way visit Anahita temple in Kangavar. In the evening visit Avicenna Persian polymath mausoleum and Hegmataneh. Late evening enjoy Ganj nameh complex.
Day 7
Visit Alisadr cave
Visit Alisadr cave the biggest water cave in the world located northern Hamedan.The Ali Sadr Cave originally called Ali Saadr or Ali Saard is the world's largest water cave which attracts thousands of visitors every year. It is located in Ali Sadr Kabudarahang County about 100 kilometers north of Hamadan, western Iran. On the way back enjoy local meal (Dizzi) in Lalehjin and the Jews tomb of Ester and Mordechai.
Day 8
Drive to Khorramabad
Head to Khorramabad and a short distance away from the route visit beautiful Gahar lake then continue.
Day 9
Head to Susa
Early morning visit Falak-ol-aflak citadel then drive to Susa (Shush) and visit Danial prophet tomb.located in the south-west of Iran, in the lower Zagros Mountains, the property encompasses a group of archaeological mounds rising on the eastern side of the Shavur River, as well as Ardeshir's palace, on the opposite bank of the river. The excavated architectural monuments include administrative, residential and palatial structures. Susa contains several layers of superimposed urban settlements in a continuous succession from the late 5th millennium BCE until the 13th century CE.
Day 10
Visit Susa and Shushtar and drive to Ahvaz
Visit Darius winter palace and Susa museum,The site bears exceptional testimony to the Elamite, Persian and Parthian cultural traditions, which have largely disappeared. then drive to Choghazanbil ziggurat after that continue to Shushtar and visit attractive water structures and Salasel citadel. Over night Ahvaz.
Day 11
Drive to Shiraz
Head to Shiraz. On the way visit Bishapur ancient city belongs to Sasanid era and Tange chogan reliefs.Many aspects of Bishapur's architecture look Roman and do not belong to Iranian building traditions. An example is what specialists call the "Hippodamian street plan", which means that the city looks like a gridiron, while Iranian cities usually were circular in design. Bishapur was not a completely novel settlement: archaeologists have found remains from the Elamite and Parthian ages. Continue fascinating road to Shiraz.
Day 12
Shiraz city tour
Shiraz is one of the major cities in Iran and the biggest in south which is famous for its beautiful Persian gardens and poets and it was capital in Zand dynasty. Visit Vakil complex and pink mosque and Narenjestan garden. In the evening visit Eram gaden and Hafez tomb. In light view visit Shah cheragh shrine.
Day 13
Visiting Persepolis
Visit Persepolis and Nagsh-e-Rostam.Founded by Darius I in 518 B.C., Persepolis was the capital of the Achaemenid Empire. It was built on an immense half-artificial, half-natural terrace, where the king of kings created an impressive palace complex inspired by Mesopotamian models. Be ready for your flight at night.