Iran Classic tour
Standard: €880
Economy: €640
9 Days

Tehran- Shiraz

310 Views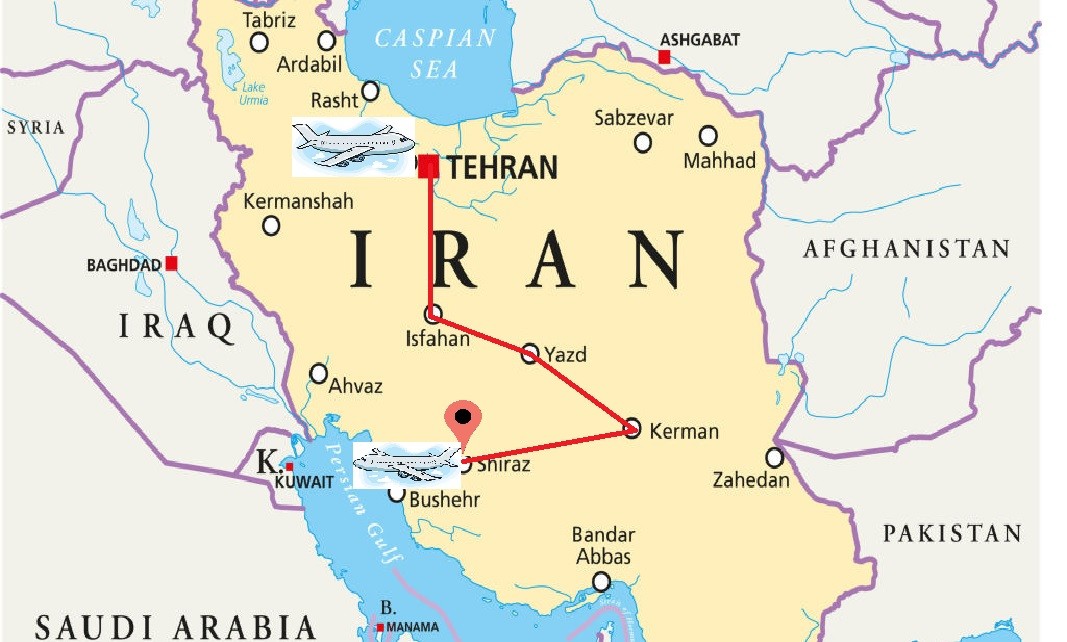 About the tour
Iran Classic Tour
In this tour we will discover central classic route and also wonderful dessert and castels and Persian art and gardens in this tour we will discover more than 5 Unesco sites.
Amenities
Transportation

Professional guide

Visa invitation code

4 star hotel

Meals (optional)

Entrance fee
Tour Rules
The itinerary is flexible. Please contact us or book the tour for more details.
The Price Is For One Person With A Minimum Of 2 People without meals (BB).
Economy tours hotels are 2* with public transportation and you will have a guide in whole trip excluding meals and entrance fees. An optional economy version is having a private car for transportation with no guide.
In Standard tours private car will be used and you will have a guide in whole trip and hotels are 4* including entrance fees.
It's possible to choose a luxury version on above mentioned tour with additional price to the standard version to have a private VIP transportation and suite in 5* hotels.
Day 1
Visit Tehran
Tehran is the capital of Iran from 1795 and established by Karimkhan Zand visit the Golestan palace,The lavish Golestan Palace is a masterpiece of the Qajar era, embodying the successful integration of earlier Persian crafts and architecture with Western influences. The walled Palace, one of the oldest groups of buildings in Tehran, became the seat of government of the Qajar family and Jewellery museum and Ceramic museum.
Day 2
Drive to Esfahan via Kashan
Stopping in the old city known as Sialk old city in Kashan whose remains are found at Tapeh Sialk dating back 9000 years and discover typical old houses and Fin garden,Few Iranian cities generate as much civic pride as Kashan. This city is the epitome of everything that is typically Persian, from its mosques, caravanserais and stately gardens, to its carpets, ceramics and delicate textiles. Kashan has never been the capital, but in no period did it lack anything in comparison to the major cities of the country.
Day 3
Visit Esfahan
Esfahan (or Isfahan) is the third biggest city in Iran – and one of it's most cultural important. Serving as a capital at various times in Iran's long past. At one stage Isfahan was the biggest city on Earth but now it is a relevantly quiet town known around the world for its beautiful architecture and breathtaking public spaces.It flourished from 1050 to 1722, particularly in the 16th and 17th centuries under the Safavid dynasty enjoy the palaces as 40 column palace and World famous Naqhshe jahan square and Sheikhlutfollah mosque and Aliqapu palace.
Day 4
Drive to Yazd
Stop in Naeen well known as desert carpet city Unique to Na'in are some of the most outstanding monuments in all of Iran: the Jame Mosque, one of the first four mosques built in Iran after the Arab invasion;Grand, simple, and old is the Jame Mosque (or Masjid Jame) of Naeen in Isfahan Province. It is in fact one of the oldest Islamic structures in Iran. Muslim or not, one is filled with awe when looking at its minaret rising high against the clear blue sky of the desert. the Pre-Islamic Narej Fortress also visit Jame mosque built in 10th and Kharanaq melted village.
Day 5
Explore Yazd
The City of Yazd is located in the middle of the Iranian plateau, 270 km southeast of Isfahan, close to the Spice and Silk Roads. It bears living testimony to the use of limited resources for survival in the desert. Water is supplied to the city through a qanat system developed to draw underground water. The earthen architecture of Yazd has escaped the modernization that destroyed many traditional earthen towns, retaining its traditional districts, the qanat system, traditional houses, bazars, hammams, mosques, synagogues, Zoroastrian temples and the historic garden of Dolat-abad.Yazd has a unique Persian architecture. It is nicknamed the City of Windcatchers, discover Zoroastrian city Yazd as fire temple and tower of silence end of life for Zoroastrian and old city walking tour.
Day 6
Drive to Kerman
Do the Kerman tourKerman Province is located in south-eastern of Iran; it is the largest province in Iran. Kerman is the capital city of Kerman province. It is the largest and most developed city in the Kerman Province and the most important city in South-East Iran. Kerman is one of the five historical cities of Iran. From the industrial, political, cultural and scientific points of view, it is the most important city in the southeast of Iran. Kerman is very famous for its long history and strong cultural heritage. Visit Ganjali Khan complex & old Bazaar.
Day 7
Around Kerman
Drive to Mahan visit Shahzadeh garden,Shahzadeh Garden, located at 35 km southeast of Kerman city, has been constructed in Qajar dynasty during 11-year old sovereignty of Abdolhamid Mirza Naseroldoleh. Shahzadeh Garden is the ninth Iranian garden that has been registered on UNESCO's World Heritage List. Shazdeh Garden meaning Prince's Garden is a historical Persian garden located near (6km away from) Mahan in Kerman province, Iran. and Shah Nemat hrine and enjoy the Rayen Castel.
Day 8
Drive to Shiraz
Shiraz capital of tourist sites and orange blossom. Famous for it's Persian gardens & Poets. Visit Narenjestan Garden and Karimkhan complex and grand bazaar.
Day 9
Visit Persepolis
Enjoy Persepolis Founded by Darius I in 518 B.C., Persepolis was the capital of the Achaemenid Empire. It was built on an immense half-artificial, half-natural terrace, where the king of kings created an impressive palace complex inspired by Mesopotamian models. The importance and quality of the monumental ruins make it a unique archaeological site., and Necropolice and evening in shiraz and fly home late at night.