North west & central Iran
Standard: €1,010
Economy: €722
10 Days

Tabriz-Shiraz

261 Views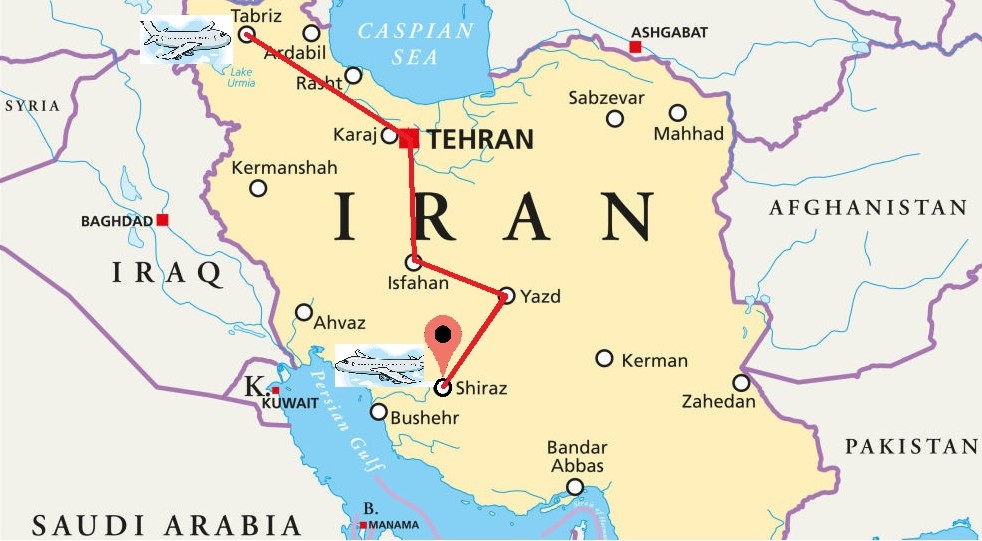 About the tour
North west & Classic Iran
This tour is mixture of mountains and cultural and Unesco heritage sites discovery.
Amenities
Transportation

Professional guide

Visa invitation code

4 star hotel

Meals (optional)

Entrance fee
Tour Rules
The itinerary is flexible. Please contact us or book the tour for more details.
The Price Is For One Person With A Minimum Of 2 People without meals (BB).
Economy tours hotels are 2* with public transportation and you will have a guide in whole trip excluding meals and entrance fees. An optional economy version is having a private car for transportation with no guide.
In Standard tours private car will be used and you will have a guide in whole trip and hotels are 4* including entrance fees.
It's possible to choose a luxury version on above mentioned tour with additional price to the standard version to have a private VIP transportation and suite in 5* hotels.
Day 1
Sightseeing in Tabriz
Tabriz was the capital of Iran in 1465 in Akqoyonlu Era and visit the historical blue mosque and world famous Biggest roofed bazaar in the world and enjoy the Elgoli park.
Day 2
Drive to Zanjan
Early morning Visit Kandovan rocky village in southern Tabriz & then drive to Zanjan discover the Bath of Zanjan and ancient Bazaar there.
Day 3
Drive to Tehran
Visit Soltaniyeh dome known as world famous and the 3rd highest dome in the world,The mausoleum of Oljaytu was constructed in 1302–12 in the city of Soltaniyeh, the capital of the Ilkhanid dynasty, which was founded by the Mongols. Situated in the province of Zanjan, Soltaniyeh is one of the outstanding examples of the achievements of Persian architecture and a key monument in the development of its Islamic architecture. The octagonal building is crowned with a 50 tall dome covered in turquoise-blue faience and surrounded by eight slender minarets then head to Tehran.
Day 4
Tehran city tour
Tehran is the capital of Iran from 1795 and established by Karimkhan Zand. Visit the Golestan palace The lavish Golestan Palace is a masterpiece of the Qajar era, embodying the successful integration of earlier Persian crafts and architecture with Western influences. The walled Palace, one of the oldest groups of buildings in Tehran, became the seat of government of the Qajar family and Jewelery museum and Ceramic museum.
Day 5
Drive to Esfahan
Stopping in the old city known as Sialk old city in Kashan, few Iranian cities generate as much civic pride as Kashan. This city is the epitome of everything that is typically Persian, from its mosques, caravanserais and stately gardens, to its carpets, ceramics and delicate textiles. Kashan has never been the capital, but in no period did it lack anything in comparison to the major cities of the country. and discover typical old houses and Fin garden and discover lovely rural life in Abyaneh historical village.
Day 6
Esfahan city tour
Esfahan (or Isfahan) is the third biggest city in Iran – and one of it's most cultural important. Serving as a capital at various times in Iran's long past. At one stage Isfahan was the biggest city on Earth but now it is a relevantly quiet town known around the world for its beautiful architecture and breathtaking public spaces.It flourished from 1050 to 1722, particularly in the 16th and 17th centuries under the Safavid dynasty,Visit Esfahan and enjoy the palaces as 40 columns palace and World famous Naqsh-e-Jahan square and Sheikhlutfollah mosque and Aliqapu palace.
Day 7
Drive to Yazd
Drive to Yazd and stop in Naein well known as desert carpet city and also visit Jame mosque built in 10th and Kharanaq melted village.
Day 8
Yazd city tour
The City of Yazd is located in the middle of the Iranian plateau, 270 km southeast of Isfahan, close to the Spice and Silk Roads. It bears living testimony to the use of limited resources for survival in the desert. Water is supplied to the city through a qanat system developed to draw underground water. The earthen architecture of Yazd has escaped the modernization that destroyed many traditional earthen towns, retaining its traditional districts, the qanat system, traditional houses, bazaars, hammams, mosques, synagogues, Zoroastrian temples and the historic garden of Dolat-abad. Discover Yazd the Zoroastrian city as fire temple and tower of silence end of life for Zoroastrians and go old city walking tour.
Day 9
Drive to Shiraz
Drive to Shiraz on your way visit the Achamenidian's Capital and Cyrus tomb as Pasargad that was built by Grand Cyrus and discover Persepolis and arrive Shiraz late evening.
Day 10
Shiraz city tour
Visit Shiraz the capital of Iran in Zand Era famous for it's Persian gardens and poets. Visit lovely Nasir ol Molk mosque (Pink mosque) and fly home late at night.