North west & central Iran (2)
Standard: €1,370
Economy: €985
14 Days

Tabriz-Shiraz

298 Views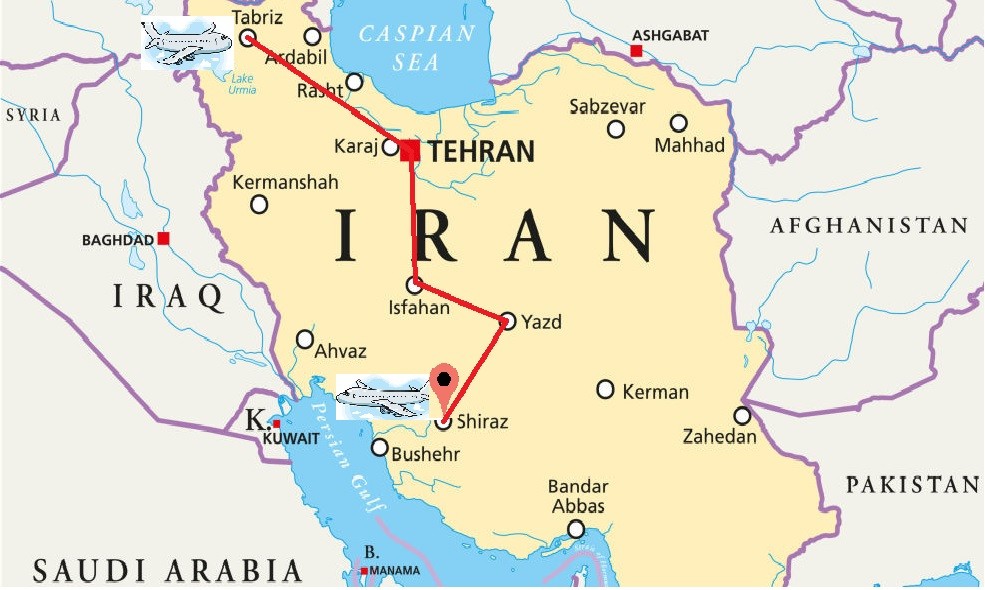 About the tour
Iran North west & central Iran Tour
Iran North west & central Iran Tour, having lovely trip around Iran feel Iranian life style staying with them, local food discover Iran. You will find Iran with mountains and forests and desert during 2 weeks.
Amenities
Transportation

Professional guide

4 star hotel

Meals (Optional)

Visa invitation code

Entrance fee
Tour Rules
The itinerary is flexible. Please contact us or book the tour for more details.
The Price Is For One Person With A Minimum Of 2 People without meals (BB).
Economy tours hotels are 2* with public transportation and you will have a guide in whole trip excluding meals and entrance fees. An optional economy version is having a private car for transportation with no guide.
In Standard tours private car will be used and you will have a guide in whole trip and hotels are 4* including entrance fees.
It's possible to choose a luxury version on above mentioned tour with additional price to the standard version to have a private VIP transportation and suite in 5* hotels.
Day 1
Arrive in Tabriz and have a sightseeing
Tabriz was the capital of Iran in 1465 in Akqoyonlu era. Visit the historical blue mosque and famous biggest roofed grand bazaar in the world and enjoy the Elgoli park.
Day 2
Visit Kandovan and head to Zanajan
Visit Kandovan rocky village & drive to Zanjan discover the Bath of Zanjan and ancient bazaar there.
Day 3
Head to Tehran
Departure to Tehran. Visiting the 3rd highest dome in the world Soltaniyeh on your way and continue to Tehran.
Day 4
Visiting Tehran
Tehran is the capital of Iran from 1795 and established by Karimkhan Zand. Visit the Golestan palace and Jewelerary museum and Ceramic museum.
Day 5
Visit Kashan
Drive to Kashan famous for rose flower.Visit the sites as much as you can Bazaar, Fin garden, historical houses.
Day 6
More discovery in Kashan
After resting in our lovely historical hotel visit Aga bozorg mosque, and historical houses. Visit Noush abad under ground city if time allows.
Day 7
Drive to Isfahan
After arriving Isfahan After check in, sight seeing bridges and evening view of royal square.
Day 8
Isfahan city tour
Enjoy the palaces as 40 column palace and World famous Naqhsh-e-jahan square and Sheikhlutfollah mosque and Aliqapu palace.
Day 9
2nd day in Isfahan
More excursion in the romantic city visit Friday mosque and wander in Armenian quarter and visit Vank Cathedral.
Day 10
Head to Yazd
Drive to Yazd and evening visit Amir chaqmaq historical square and enjoy watching Iranian historical sport called Zurkhaneh.
Day 11
Yazd discovery
Discover zoroastrian city Yazd as fire temple and tower of silence end of life for zoroastrians and old city walking tour and take photo of historical part of city from top view and visit Yazd Jame mosque located on Zarch qanat (under ground water channel).
Day 12
Drive to Shiraz
Start your journey to Shiraz which was capital in Zand era and famous for its persian gardens and poets. You can enjoy the evening with a nice meal and going around the gardens.
Day 13
Visit Persepolis
Drive to Persepolis and Necropolis and visit them. Enjoy the evening spending in Hafez tomb.
Day 14
Visit Shiraz and fly home late at night
Today you can go around Vakil complex and spend time in lovely bazaar. Visit Nasir-ol-molk (Pink) mosque and Narenjestan garden. In the evening visit delighted view of Shah cheragh shrine. Fly back home late at night.