Desert Tour
Standard: €405
Economy: €270
4 Days

Isfahan-Yazd

220 Views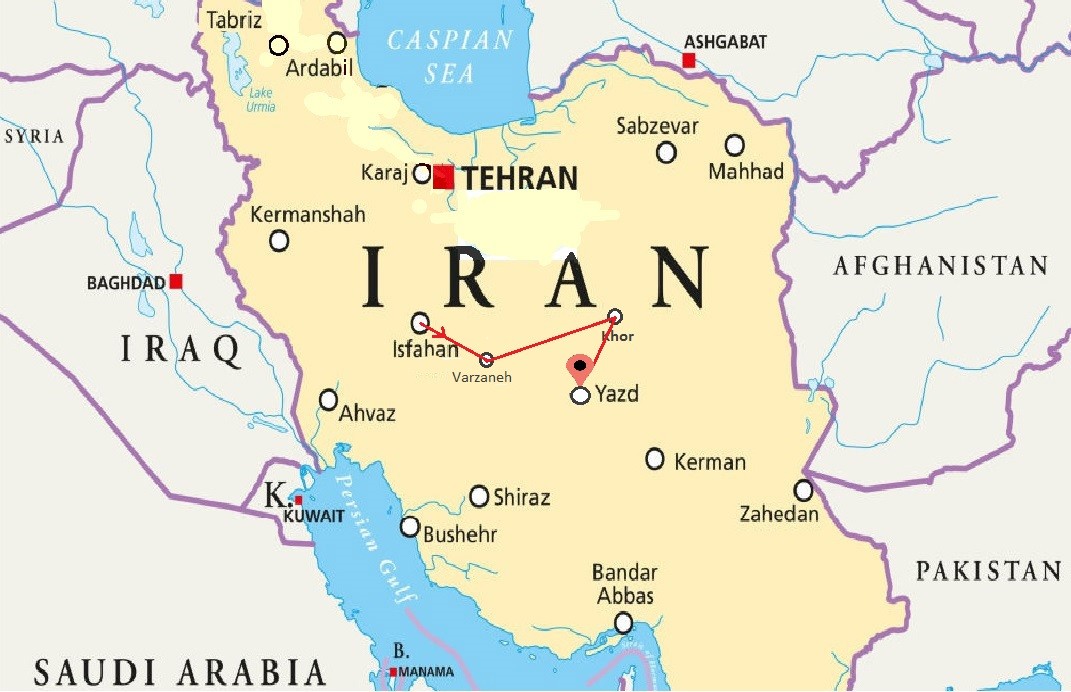 About the tour
Desert Tour In Iran
Iran is situated in a high-altitude plateau surrounded by connected ranges of mountains. The well-known deserts of Iran are at two major regions: 1) Dasht-e-Kavir, and 2) Kavir-e-Lut. They are both some of aridest and hottest areas of their kinds in the world.
Desert tour
In this tour we will discover different part of the life and nature of the Desert which will amaze you.
Amenities
Transportation

Local stay

Entrance fee

Camel ridding

Professional guide

Meals
Tour Rules
The itinerary is flexible. Please contact us or book the tour for more details.
The Price Is For One Person With A Minimum Of 2 People including home stays and meals (FB).
In Standard tours private car will be used and you will have a guide in whole trip including entrance fees.
An economy version is available having a private car for transportation with no guide and excluding entrance fees and meals.
It's possible to choose a luxury version on above mentioned tour with additional price to the standard version to have a private VIP transportation.
Day1
Leave Isfahan to Ghurtan and Varzaneh
This morning you will leave Isfahan and heading to East and enter to Ghurtan Castel with its melted form shape. The ancient Ghurtan old citadel is located 12km west of Varzaneh, and you can reach it directly from Isfahan, being 90km east of Isfahan city. It's located on the bank of the Zayanderud river and has survived natural disasters and many wars for 1000 years. Having very thick walls made of adobe mud brick) made it a protected complex for people living in the region. The thickness of the walls varies from 3 to 4m and they are about 9m high. The citadel has an area of 40,000 square meters. Nowadays, only four families are living inside. The citadel contains four mosques, a pigeon house, a water reservoir, a mill and many houses. It is protected by fourteen round towers and you would enter by two gateways and then visit the Ghavchah and camel mill which You can see one of the most traditional and initial ways to get water from well. It works with a huge cow who moves and pull the windlass, but he never starts moving unless the old man he knows sing a song and evening enjoy the sand dunes and have sunset there.
Day2
Visit Varzaneh and drive to Khor
Enjoy the town Varzaneh with its famous white angels (ladies with white chadors) and then drive to Naeen short stop for one of the oldest mosques in Iran and old city with melted mini castel. This mosque is perhaps one of the oldest mosques in Iran that although belong to hundred years ago but kept its original architecture. French professor, Arthurp Pops believed that the mosque foundation goes back to 9th century. It has a very simple plan but is still very beautiful. The mosque contains a central rectangular courtyard that is surrounded with hypostyles on three sides. At one of these hypostyles the mihrab of the mosque is located and then in the evening arrive in khor.
Day3
Mesr Desert and camel riding
Mesr is a village and desert area in Jandaq Rural District, in the Central District of Khur and Biabanak County, Isfahan Province, Iran. This desert represents an interesting scene of the integrated performance of geomorphic and geologic processes and climate changes. And for the evening we head to Gharmeh to Maziar home stay some days he plays some music with odd shape instrument and enjoy the stars.
Day4
Bayazeh and Kharanaq melted town and Chak Chak fire temple
Entering the five-storey castle, you will see many small connected rooms and covered passages. A moat was dug around the castle, traces of which can still be seen there. Part of the castle has been restored and is open to the visitors. For centuries, the ancient castle had defensive and residential functions and at the time of the Ismailis, it was a base for the followers of Hassan al-Sabbah (1050-1124), a missionary who converted a lot of Iranians to Islam. Sitting in a remote valley about 70km (43 miles) north of Yazd in Central Iran, is the deserted and crumbling mud-brick village of Kharanaq. The site has been occupied for approximately 4,000 years, while the dilapidated adobe buildings that draw foreigners from around the world date back around 1,000 years. The abandoned town is a photographer's dream with a labyrinth of streets, tunnels, passageways, and rooms, as well as more impressive buildings such as a tiny mosque, a shaking minaret, and an old caravanserai that welcomed merchants and pilgrims centuries ago. Kharanaq, which means 'place of birth of the sun', is divided into two parts – the Old Town, which is almost completely deserted, and the New Town, where some 130 families continue to live and after all visit the temple once you reach the actual temple of Chak Chak there is a man-made grotto sheltered by two large bronze doors. The shrine enclosure is floored with marble and its walls are darkened by fires that have been kept eternally burning in the sanctuary. You'll be greeted by the caretaker who'll let you inside and then arrive to Yazd.